All Manufacturers
We can repair all vehicle makes and models.
12 Month Warranty
On all transmission and gearbox repairs.
0% Finance
Available on gearbox and transmission repairs.
Hybrid & Electric
We can repair hybrid and electric vehicles.
Specialists In All Makes Of Automatic Transmission
ESTABLISHED SINCE 1991 WITH OVER 40 YEARS TRANSMISSION EXPERIENCE
Beds Automatic Transmissions Ltd are specialist re-builders of automatic transmissions and gearboxes for vehicles (from cars and motor homes to commercial), providing the sort of specialist service that Bedfordshire car drivers can rely on. We don't just repair transmissions and gearboxes; we can actually rebuild automatic transmissions and auto gearboxes and repair even sealed transmission units. Beds Auto Trans Ltd is the only company in Bedfordshire dedicated to transmission repair and transmission service. We provide a cost-effective solution (by re-manufacturing parts in our own workshop where possible) to any transmission problem, quickly and efficiently, using the latest electronic testing equipment and technology for professional repair on all types of transmissions.
Owners will note that there is no dipstick to check the oil themselves but by having your car up on a hoist in order to access the underside of the vehicle the levels can easily be checked and then kept topped up or changed. By changing your oil regularly your transmission's life will be greatly extended and you will avoid some very expensive repair bills by the time your car is, undoubtedly, out of warranty and the transmission eventually fails - leaving you with an expensive bill.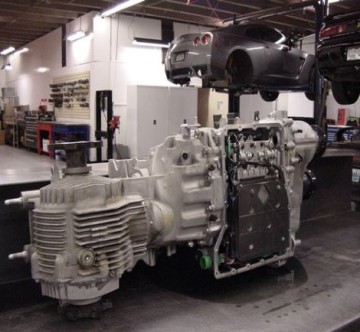 TRANSMISSION & VALVE BODY TESTING
MACKIE VALVE BODY & SOLENOID DAQ
Recently acquiring the latest acquisition in valve body testing. Built by transmission engineers based in Scotland and have a worldwide reputation in Automatic and Manual transmission remanufacture, we are please that we are able to test valve bodies to scripts provided by Makie Automatic Transmissions. With the added benifit that scripts provided have also been used and tested on there Transmission Dyno.
It is one of three valve body test machine we have. Our other equipment are also data aquasistion and again produced by a UK company producing valve body and solenoid test equipment.
HYDRATEST VALVE BODY & SOLENOID DAQ
When Rebuilding Automatic Transmissions the valve body is an essential component that should be checked and repaired whist repairs are carried out to your vehicle, it is part of the rebuild. The money you pay for repairs can reflect wether or not the valve body has been tested and repaired. Hydraulic integrity of the valve body is critical. Many failures to the automatic transmission is the root cause to many problems.
Our solenoids are ultrasonically cleaned and tested individually using our hydraulic test equiptment and in some cases the solenoid is cut opened and coil bushes are replaced.
Spread the Cost with 0% Interest-Free Finance on Transmission Repairs
Through Service4Service, we want to help ease the cost of your transmission repairs, by offering our customers the option to spread the cost of their repair bill over either four or ten months, interest-free with a choice of transmission repair payment plans.
4 months interest-free option
Transmission repair costs totalling over £350.
Spread the cost over 4 months interest-free.
You pay 25% of the total upon application.
The remaining 75% is spread over 3 equal monthly payments.
A valid UK debit card is required to arrange the payment plan.
10 months interest-free option
Transmission repair costs totalling over £1000.
Spread the cost over 10 months interest-free.
Deposit between 10% - 50%.
Finance subject to acceptance.
Credit and affordability checks carried out.
Recent Customer Reviews
I am writing to thank your team for the most excellent service and attention I received when I brought my car to you last week. From the moment I made a telephone call to your Centre until I drove my car away, I was both reassured and impressed at every stage.
I hope you are well and business is good. Having just read the ATSG article in Transmission Digest, I wanted to congratulate you on your efforts with the 722.6 TC problems.It's very rare to witness someone in our industry conducting true "Route, Cause Analysis" to overcome a problem.
I can't thank Nino and his crew enough , having had problems with juddering and gears changing up at certain revs and a bit of clunking I took it to Nino who diagnosed the problem , after having the gearbox overhauled and new torque converter my car is like new , so smooth now and a lot more responsive ,its brilliant ,so thanks again Nino ,great job ,will definitely be recommending your company, ( Range Rover Sport ) 👍.