All Manufacturers
We can repair all vehicle makes and models.
12 Month Warranty
On all transmission and gearbox repairs.
0% Finance
Available on gearbox and transmission repairs.
Hybrid & Electric
We can repair hybrid and electric vehicles.
Specialists In All Makes Of Transmission Valve Body
EVERY VALVE BODY IS COMPLETELY DISASSEMBLED, CLEANED, UPDATED, AND SOLENOIDS TESTED AND REPLACED AS NEEDED. EACH REMANUFACTURED UNIT IS THEN HYDRAULICALLY AND ELECTRONICALLY TESTED.
The valve body is the control of the transmission. It could also be called an actuator for the transmission control unit. Inside the valve body, including some solenoids, there are many types of valves within it, ranging from regulator valves, switch and servo valves. Checking the hydraulic integrity of the valve body is critical and can be the root cause of many transmission failures. Our units are completely torn down and hydraulic circuits are checked in several ways, spring deflection is also checked. The unit is then updated re-assembled and tested hydraulically & electronically tested using our 1 of 3 valve body data acquisition test machines.
There are several solenoids, from an on-off solenoid to variable bleed & linear, all used in today's automatic transmission. Solenoid operation again is important to the function of the transmission. Solenoids are stripped, Ultra Sonically cleaned, re-assembled then tested on our 1 of 4 test solenoid Data acquisition test machines. Each test is then stored for future reference. Since 2009 Beds Automatic Transmissions have been directly responsible for transmission fixes to the industry and sold worldwide as well as in the UK. As featured in Transmission Digest & 911 Porsche world.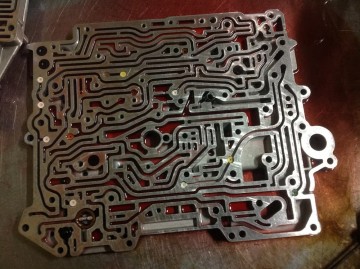 SPECIALISTS IN ALL MAKES OF AUTOMATIC & DUAL CLUTCH TRANSMISSION
Our valve body test machines allow running a series of tests checking performance of a malfunctioning Valve Body at various gears and pressure inputs. If put simply, they emulate transmission performance of a driven vehicle. Mackie & the Hydratest teams writes scripts that the Controller reads and then issues commands to the unit itself. By running a used Valve Body through a set of carefully elaborated steps and reading outputs the system makes a graphic that is compared to the one taken from an original new Valve Body of the same model. This comparison makes it possible for ourselves to determine the exact source of the problems - be it a damaged solenoid, a worn-out valve or plunger.
COMMON SOLENOID PROBLEMS
Electrical failure (Open/Short or weak performing): Generally modern solenoids are electrically reliable but we compare the electrical performance against the hydraulic reaction. Contamination from Debris: From our experience this is the number one reason for solenoid failure. It can cause poor flow and slow to respond performance. Worn seating causing a poor seal and failure to fully close. Internal seal failure. Worn valve bore wear, mainly found on a Linear solenoid. Bushing issues: mainly referring to Aisin Linear solenoids.
Spread the Cost with 0% Interest-Free Finance on Transmission Repairs
Through Service4Service, we want to help ease the cost of your transmission repairs, by offering our customers the option to spread the cost of their repair bill over either four or ten months, interest-free with a choice of transmission repair payment plans.
4 months interest-free option
Transmission repair costs totalling over £350.
Spread the cost over 4 months interest-free.
You pay 25% of the total upon application.
The remaining 75% is spread over 3 equal monthly payments.
A valid UK debit card is required to arrange the payment plan.
10 months interest-free option
Transmission repair costs totalling over £1000.
Spread the cost over 10 months interest-free.
Deposit between 10% - 50%.
Finance subject to acceptance.
Credit and affordability checks carried out.
Recent Customer Reviews
I am writing to thank your team for the most excellent service and attention I received when I brought my car to you last week. From the moment I made a telephone call to your Centre until I drove my car away, I was both reassured and impressed at every stage.
I hope you are well and business is good. Having just read the ATSG article in Transmission Digest, I wanted to congratulate you on your efforts with the 722.6 TC problems.It's very rare to witness someone in our industry conducting true "Route, Cause Analysis" to overcome a problem.
I can't thank Nino and his crew enough , having had problems with juddering and gears changing up at certain revs and a bit of clunking I took it to Nino who diagnosed the problem , after having the gearbox overhauled and new torque converter my car is like new , so smooth now and a lot more responsive ,its brilliant ,so thanks again Nino ,great job ,will definitely be recommending your company, ( Range Rover Sport ) 👍.