All Manufacturers
We can repair all vehicle makes and models.
12 Month Warranty
On all transmission and gearbox repairs.
0% Finance
Available on gearbox and transmission repairs.
Hybrid & Electric
We can repair hybrid and electric vehicles.
Specialists In All Makes Of DSG Transmission
ESTABLISHED IN 1991 WITH OVER 40 YEARS OF TRANSMISSION EXPERIENCE
Direct Shift Gearboxes offer a uniquely smooth driving experience. Performing like an automatic transmission but with the use of two clutches rather than a single unit, DSG gearboxes provide power and quick shifting like nothing else. Their increased speed, power and versatility all make a gearbox system that's growing in popularity and becoming more and more common in modern sports cars.
At Beds Transmissions Ltd, we are proud to be specialists in Direct Shift Gearboxes and transmissions, providing tried and true repairs and servicing in Bedfordshire. More and more modern vehicles are adopting DSG gearboxes for their performance and drive quality and as a result, there has been an increased demand for DSG repair services in Bedfordshire and the surrounding areas which is why we are proud to offer a dedicated gearbox repair service tailored to DSG vehicles. Through expertise and leading diagnostic and reconditioning equipment, we are able to provide lasting and trustworthy repair, servicing and rebuilding.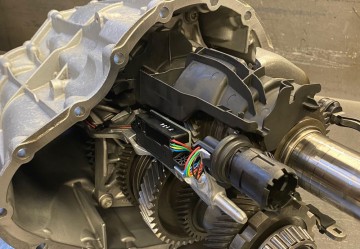 MECHATRONIC UNITS & CODING
Mechatronic Units Tested
VW, AUDI, SKODA, SEAT.
The Mechatronic unit on a DSG gearbox uses a combination of electronic and mechanical engineering and is the heart of the system and when they go wrong, it can be devastating. Any faulty or damaged mechatronic unit should be diagnosed and repaired by an experienced specialist. Our team of qualified technicians are able to run full diagnostics to find the source of the issue and get your DSG mechatronic unit back up and running, or completely rebuild it from scratch where needed, with the peace of mind that it has been completed with care and expertise. From rebuilding and repair, to reprogramming following repair, our mechatronic unit repairs team in Bedfordshire are on hand to provide expert assistance.
SERVICING DSG GEARBOXES
While repair and reprogramming are important, servicing and maintaining your DSG gearbox is vital. To take full and proper care of your DSG gearbox, you should follow your manufacturer's recommended service intervals. Your DSG system uses two clutches in one and as a result, can need extra care to ensure both are running smoothly and together.
Failure to keep your DSG gearbox maintained will result in an expensive failure. Regular servicing by our qualified team here at Beds Transmissions Ltd will ensure that you can keep driving in confidence for years to come.
Spread the Cost with 0% Interest-Free Finance on Transmission Repairs
Through Service4Service, we want to help ease the cost of your transmission repairs, by offering our customers the option to spread the cost of their repair bill over either four or ten months, interest-free with a choice of transmission repair payment plans.
4 months interest-free option
Transmission repair costs totalling over £350.
Spread the cost over 4 months interest-free.
You pay 25% of the total upon application.
The remaining 75% is spread over 3 equal monthly payments.
A valid UK debit card is required to arrange the payment plan.
10 months interest-free option
Transmission repair costs totalling over £1000.
Spread the cost over 10 months interest-free.
Deposit between 10% - 50%.
Finance subject to acceptance.
Credit and affordability checks carried out.
Recent Customer Reviews
I am writing to thank your team for the most excellent service and attention I received when I brought my car to you last week. From the moment I made a telephone call to your Centre until I drove my car away, I was both reassured and impressed at every stage.
I hope you are well and business is good. Having just read the ATSG article in Transmission Digest, I wanted to congratulate you on your efforts with the 722.6 TC problems.It's very rare to witness someone in our industry conducting true "Route, Cause Analysis" to overcome a problem.
I can't thank Nino and his crew enough , having had problems with juddering and gears changing up at certain revs and a bit of clunking I took it to Nino who diagnosed the problem , after having the gearbox overhauled and new torque converter my car is like new , so smooth now and a lot more responsive ,its brilliant ,so thanks again Nino ,great job ,will definitely be recommending your company, ( Range Rover Sport ) 👍.