All Manufacturers
We can repair all vehicle makes and models.
12 Month Warranty
On all transmission and gearbox repairs.
0% Finance
Available on gearbox and transmission repairs.
Hybrid & Electric
We can repair hybrid and electric vehicles.
Specialist Diagnostic Equipment E & OE
ESTABLISHED SINCE 1991 WITH OVER 40 YEARS TRANSMISSION EXPERIENCE
We carry a large amount of manufactures diagnostic equipment enables us to diagnose your vehicle correctly, offering updates to vehicle's with paticular problems which could be solved by a vehicle manufacture software enhancement. Some of OE equipment used includes; Ford,GM,Jaguar/Landrover,Mercedes,VAG Group.
A wide range of digital ocsilloscopes and recording equipment are also used to enable us to diagnose engine concerns that may feel that there is an issue with the transmission. Starting with the first thing first approach battery and charging systems are checked. We use a wide range of routines from exhaust pulse diagnostics to fuel pressure and cylinder balance analysis. After market equipment is also used, as it can be quicker to retrieve vehicles diagnostic trouble codes.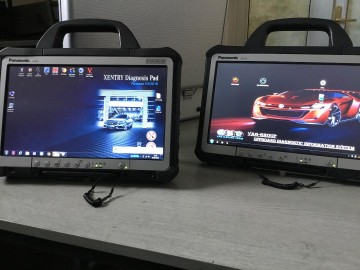 MECHATRONIC UNITS & CODING
Mechatronic Units Tested
VW, AUDI, FORD, NISSAN, MERCEDES, VOLVO, MITSUBISHI ZF6/ZF8/ZF9.
IN-HOUSE CODING
A Mechatronic unit uses a combination of mechanical & electronic engineering. The unit consists of a valve body assembly with solenoids. The electronic control unit is usually attached to the valve body with the exception of the Porsche PDK a dual-clutch transmission designed by ZF.
In most Mechatronic units with exceptions to the dry clutch units, the valve body section simulates the same design as the standard automatic transmission ie; Spool valves, Check valves, and Thermostatic bypass valves. Springs are also used to resist and control the movement of the valve.

DATA TRANSFER
Buying New mechatronic units can be expensive and can only be coded by dealer equipment. Beds Automatic Transmissions are able to transfer data from one unit to another keeping original data such as factory flow & chassis & immobiliser onto a known good used unit.
We can supply files such as on the Mercedes 722.9 even if the unit is dead and no need to purchase a complete mechatronic unit. A new unit has to be purchased when the unit has no communication as there is no way to transfer the flow data from the original valve body to the new control unit whether it's a VGS1 VGS2 VGS3. We can also unlock these TCU'S & ISM modules which then can be recoded to any 722.9.
Vehicle Problem Assessment
Get your vehicle problems solved by specialist diagnostics services at Beds Automatic Transmissions. Highly-trained technicians accurately identify vehicle faults and problems. We'll advise on the necessary repair process. We will confirm the cause and suggest a course of action to solve the problem. You choose what you what to do. You remain in control of the budget. We apply our expertise, experience, resources and skill in equal measure to ensure your problem is resolved in the most cost-effective, value-for-money way.
We have a vast inventory of main dealer equipment which includes; Ford IDS & FRDS, Mercedes Star and aftermarket equipment such as; Snap-on Zeus, Autologic, and Autel. Another piece of equipment used is a first-look sensor. The FirstLook Engine Diagnostic Sensor offers a fast and accurate method to diagnose automotive engine problems such as burnt valves, bad injectors and other performance problems without major disassembly of the engine. When connected to the exhaust or vacuum side of the engine to be tested the FirstLook engine diagnostic sensors enable our technicians to quickly display a complete picture of core engine performance on a suitable digital storage lab scope.
NVH Problems
The root of all NVH problems is vibration. In some cases, these are unwanted or unexpected vibrations, and in other cases, they are normal and always present (e.g. engine combustion), but they are noticeably disturbing when transmitted to the passenger compartment. Sound is simply a vibration that is transmitted through the air (or another medium) and is heard when it reaches a person's ear. Although the perfect hearing range is 20 Hz to 20 kHz, most of us are more like 100 Hz to 15 kHz at best. Vibrations are usually felt at frequencies below 200 Hz, and in the overlapping frequency, range vibrations can be both felt and heard.
In order to deal with this frequency range effectively, our NVH kits contain both microphones (for sound), and accelerometers (for vibrations). Traditionally, NVH problems have been viewed as difficult to solve, with NVH complaints being subjective as people have different levels of NVH acceptance or feeling. A technician needs the right tools and procedures to be able to tackle these issues effectively, to diagnose complaints in an objective, repeatable and easy manner. The NVH kit does this, while also generating customer reports to show that an improvement has been made against the customer's complaint.
Spread the Cost with 0% Interest-Free Finance on Transmission Repairs
Through Service4Service, we want to help ease the cost of your transmission repairs, by offering our customers the option to spread the cost of their repair bill over either four or ten months, interest-free with a choice of transmission repair payment plans.
4 months interest-free option
Transmission repair costs totalling over £350.
Spread the cost over 4 months interest-free.
You pay 25% of the total upon application.
The remaining 75% is spread over 3 equal monthly payments.
A valid UK debit card is required to arrange the payment plan.
10 months interest-free option
Transmission repair costs totalling over £1000.
Spread the cost over 10 months interest-free.
Deposit between 10% - 50%.
Finance subject to acceptance.
Credit and affordability checks carried out.
Recent Customer Reviews
I am writing to thank your team for the most excellent service and attention I received when I brought my car to you last week. From the moment I made a telephone call to your Centre until I drove my car away, I was both reassured and impressed at every stage.
I hope you are well and business is good. Having just read the ATSG article in Transmission Digest, I wanted to congratulate you on your efforts with the 722.6 TC problems.It's very rare to witness someone in our industry conducting true "Route, Cause Analysis" to overcome a problem.
I can't thank Nino and his crew enough , having had problems with juddering and gears changing up at certain revs and a bit of clunking I took it to Nino who diagnosed the problem , after having the gearbox overhauled and new torque converter my car is like new , so smooth now and a lot more responsive ,its brilliant ,so thanks again Nino ,great job ,will definitely be recommending your company, ( Range Rover Sport ) 👍.