All Manufacturers
We can repair all vehicle makes and models.
12 Month Warranty
On all transmission and gearbox repairs.
0% Finance
Available on gearbox and transmission repairs.
Hybrid & Electric
We can repair hybrid and electric vehicles.
Specialists In All Makes Of Dual-Clutch Transmission
ESTABLISHED SINCE 1991 WITH OVER 40 YEARS TRANSMISSION EXPERIENCE
A dual-clutch transmission (DCT) (sometimes referred to as a twin-clutch transmission or double-clutch transmission) is an automated manual transmission in motor vehicles, closely related to a manual transmission. It uses two separate clutches for odd and even gear sets. It can fundamentally be described as two separate manual transmissions with their respective clutches contained within one housing, and working as one unit. Although usually operated in a fully automatic mode, all have the ability to manually shift using the transmissions electrohydraulics.
A dual-clutch transmission eliminates the torque converter as used in conventional epicyclic-geared automatic transmissions. Instead, dual-clutch transmissions that are currently on the market primarily use two oil-bathed wet multiplate clutches, though dry-clutch versions are also available.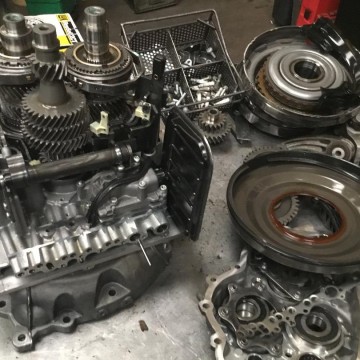 MECHATRONIC UNITS & CODING
Mechatronic Units Tested
VW, AUDI, FORD, NISSAN, MERCEDES, VOLVO, MITSUBISHI ZF6/ZF8/ZF9.
IN-HOUSE CODING
A Mechatronic unit uses a combination of mechanical & electronic engineering. The unit consists of a valve body assembly with solenoids. The electronic control unit is usually attached to the valve body with exception of the Porsche PDK a dual-clutch transmission designed by ZF.
In most Mechatronic units with exceptions to the dry clutch units, the valve body section simulates the same design as the standard automatic transmission ie; Spool valves, Check valves, and Thermostatic bypass valves. Springs are also used to resist and control the movement of the valve.
SERVICING DUAL-CLUTCH TRANSMISSIONS
Servicing these transmissions is vital. They should be carried out at the manufacturer's service intervals. Essentially as the dual-clutch transmission is two manual gearboxes in one housing, the swaf generation is substantial. Swaf is collected around the selector fork's magnetic sensor pick-ups for selector position & around the speed sensor pickup ring.
Failure to keep this transmission maintained will result in an expensive failure. It is one of the reasons why the transmission control unit on an OAM 7spd dry clutch short circuits, as gear oil creeps in the back of the unit then BOOM! It needs a new unit.
Spread the Cost with 0% Interest-Free Finance on Transmission Repairs
Through Service4Service, we want to help ease the cost of your transmission repairs, by offering our customers the option to spread the cost of their repair bill over either four or ten months, interest-free with a choice of transmission repair payment plans.
4 months interest-free option
Transmission repair costs totalling over £350.
Spread the cost over 4 months interest-free.
You pay 25% of the total upon application.
The remaining 75% is spread over 3 equal monthly payments.
A valid UK debit card is required to arrange the payment plan.
10 months interest-free option
Transmission repair costs totalling over £1000.
Spread the cost over 10 months interest-free.
Deposit between 10% - 50%.
Finance subject to acceptance.
Credit and affordability checks carried out.
Recent Customer Reviews
I am writing to thank your team for the most excellent service and attention I received when I brought my car to you last week. From the moment I made a telephone call to your Centre until I drove my car away, I was both reassured and impressed at every stage.
I hope you are well and business is good. Having just read the ATSG article in Transmission Digest, I wanted to congratulate you on your efforts with the 722.6 TC problems.It's very rare to witness someone in our industry conducting true "Route, Cause Analysis" to overcome a problem.
I can't thank Nino and his crew enough , having had problems with juddering and gears changing up at certain revs and a bit of clunking I took it to Nino who diagnosed the problem , after having the gearbox overhauled and new torque converter my car is like new , so smooth now and a lot more responsive ,its brilliant ,so thanks again Nino ,great job ,will definitely be recommending your company, ( Range Rover Sport ) 👍.